Sydney Day One, Arrival
Growing up in communist Romania, where average people weren't allowed to have a passport and getting out of the country was heavily restricted, I never imagined myself visiting Australia. My wildest dreams took me only as far as Paris and even that I didn't dare to hope. And yet, after a long layover in London, on a cold February day of year 2011 I took off in a plane bound for Bangkok where I was to change planes and continue on to Sydney. London was visible low below us, like a carpet of lights. The first part of the flight was 10h and a half out of which I managed to sleep for 7h. I'm pretty good at sleeping in planes, always have been. Then followed the 2h layover in Bangkok and a pleasant surprise: we have been upgraded to business class for the next leg of the flight. After sleeping for another 3h – I told you I'm good 🙂 – I spent the rest of my time reading from the LP East Coast Australia guide, fine-tunning the planning for the next few days. Before leaving Bucharest I have followed the news about the flooding of the East Coast changing the itinerary accordingly, such that we won't run into any problems. But now the flights and hotels were booked so all we could do was hope for the best.
Right before landing I was witness to one of the most exquisite sunrises. The colors were a mixture of oranges and pinks bordered in the lower part by the dark grey clouds. Here and there were spots of a glorious blue sky, a promise of a clear day (an unkept promised as the day didn't turn out that way). Passing through customs we had to line our luggage in a row and wait for the sniffing dog to do its job. The custome's officer asked us where are we coming from and when he heard Romania he asked: "Bucharest? Timisoara?" Bucharest we said but I was quite impressed that he had heard of Timisoara. We took a taxi to the hotel. Driving in Australia is on the left like most of the Commonwealth and that in itself was interesting enough to watch on our way to the city center. It was 7.30 in the morning and Sydney was slowly coming alive. I saw many biciclists riding in the middle of the traffic and I wondered if the laws are similar to San Francisco where byciclists can ride the car lanes and have the right of way. At the hotel we were informed that our room will be ready at 2.00 PM so we left the luggage, took the camera and a map and headed out to explore the city. In front of the hotel I took out the map and tried to orient myself and 20 second later a young guy stopped and helped us with directions to Hyde Park. Wow. I was impressed. The locals must indeed be as friendly as everyone says. We walked to Hyde Park and as soon as we hit the corner of the park we decided to take a break (after all we have walked for a total of … four blocks! 🙂 ). So we stopped at the Hyde Park Cafe and started to try all the Australian beers on the menu: Victoria Bitter, Toohey's, Crown Lager, Hahn Premium Light. All around us people were serving breakfast and drinking coffee but being on a different time zone we didn't feel bad drinking beer at 8.00 in the morning. And soon we were happy that we stopped for a break because as soon as the beer arrived it started to rain. A light rain looking like it materialized from the humidity. At times it would stop and then it would restart going from nothing to a light spray and then back to nothing in a second like someone was playing with a faucet. After getting refills for beers we waited for a break in the curtain of rain and headed along to explore Hyde Park. We passed the Anzac War Memorial, a design of C. Bruce Dellit, built in 1934 to commemorate the Australian Imperial Force of World War I. To its north side there's a rectangular "Lake of Reflections" pool flanked by rows of poplars. We spent some time watching the birds around the pool and then followed a tree lined avenue to the Archibald Fountain designed by François-Léon Sicard and donated by J.F. Archibald in 1932 in honour of Australia's contribution to World War I in France.
To be continued …
Corner of Hyde Park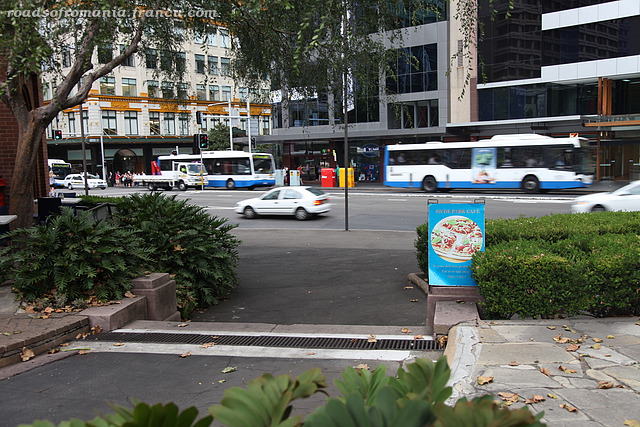 Australian beers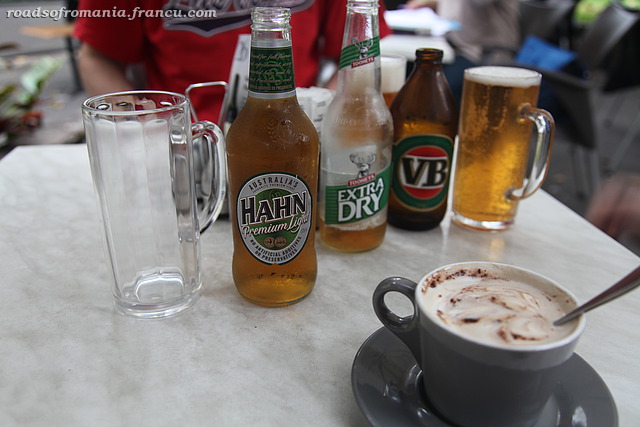 Hyde Park Cafe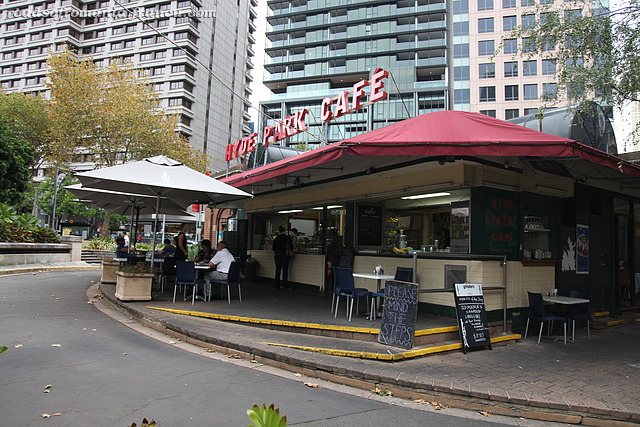 Yours truly tired after the long flight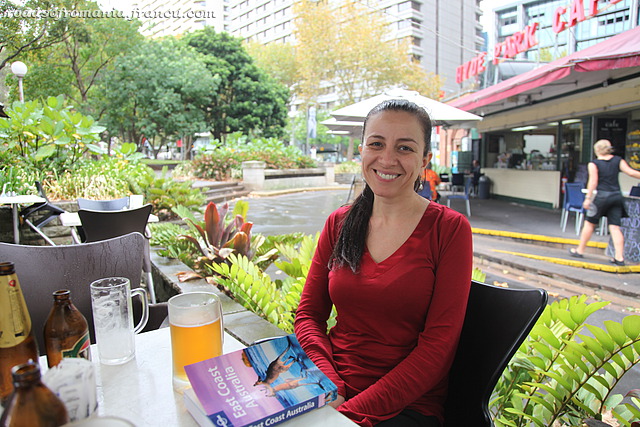 Anzac Memorial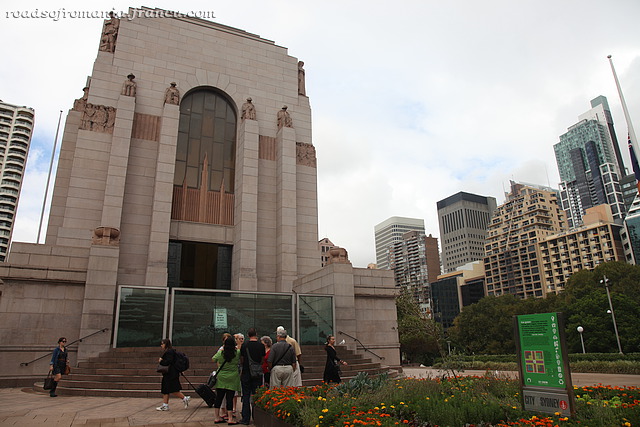 Anzac Memorial and the "Lake of Reflections"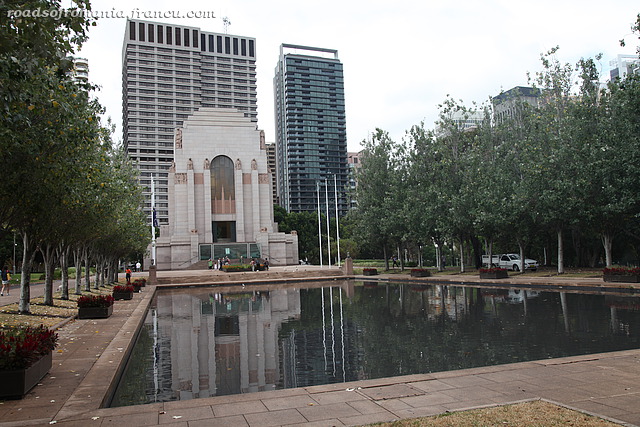 The Archibald Fountain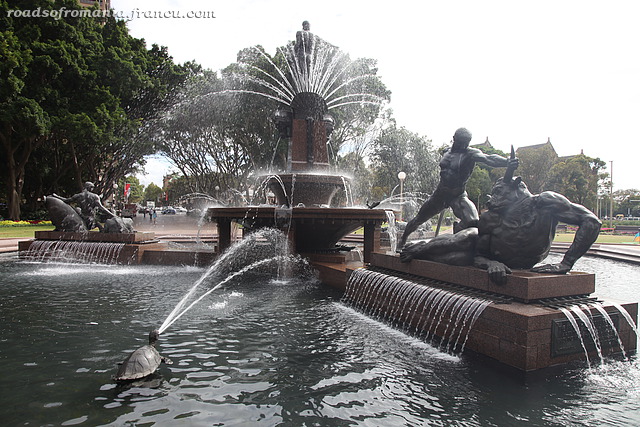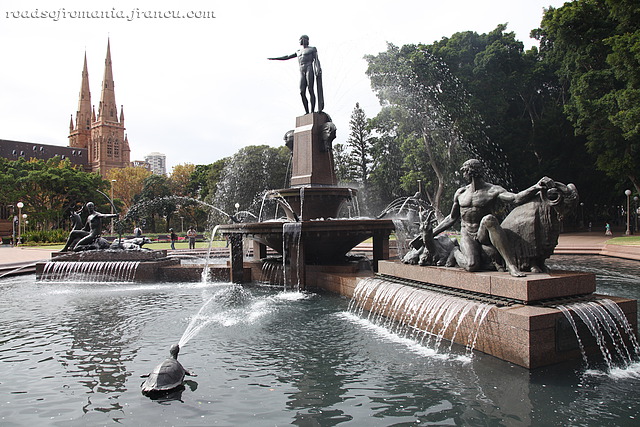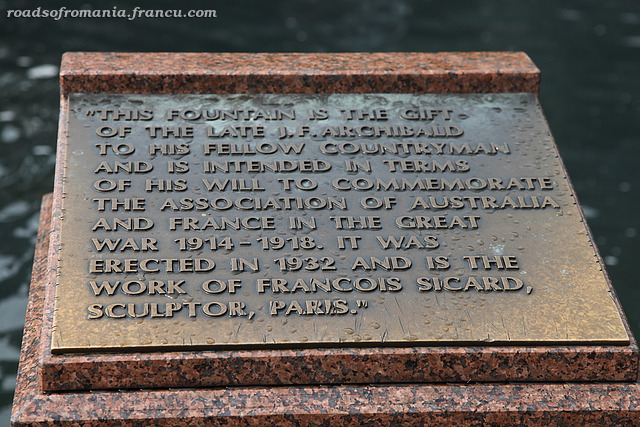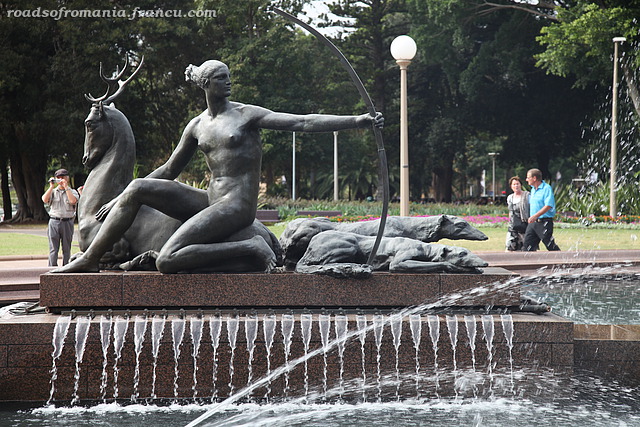 St. Mary's Cathedral